A wedding ceremony is a couple's most meaningful moment as they publicly proclaim their love for each other. As a wedding chaplain that has officiated many different ceremonies over 30 years, I do my best to listen closely and carefully to the couple's needs of their wedding ceremony. I want couples to be able to memorably and recall fondly a meaningful and personal celebration of love whenever looking back.
Whether a ceremony is simple and straight forward to an extravagant affair, I find it imperative to conduct the wedding in accordance of the couple's wishes in terms of manner, culture, ritual and religious belief.
There are three fundamental types of wedding ceremonies I am honored to provide: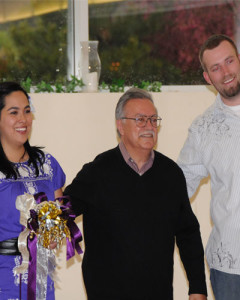 Civil Wedding Ceremony
Many couples will tell me that they only want a very basic civil ceremony, which involves the following:
1. The statement of Intentions
2. The Vows
3. The Ring Ceremony
4. The Pronouncement of Mr. and Mrs. _________.
Note: Civil Ceremony may or may not mention the name of God depending on the wishes of couple. Officiant and couple may meet before wedding date depending on the wishes of couple.
Read our Civil Wedding Ceremony script here.
Religious Wedding Ceremony
Couples who want a religious ceremony (Christian, Catholic, Interfaith) will experience a very meaningful ceremony that takes into consideration the many special religious wishes of each couple.
Note: Officiant and couple usually meet 1x before wedding to become familiar with wedding ceremony needs. Officiant mentions God, reads a scripture verse on love, says a prayer before pronouncement; includes special rituals that couples may want included during the ceremony.
Read our Religious Wedding Ceremony script here.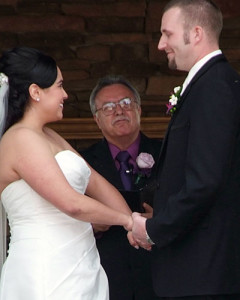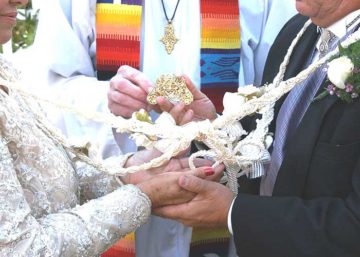 Cultural Wedding Ceremony
Couples will tell me that they would like included in their wedding ceremony a cultural dimension that reflects their cultural richness; for instance:
Lasso & Arraz (rope and coins) that signify unity and co-responsibilities; several family members are involved in this very special ritual. This ritual is proudly shared in both the Hispanic and Filipino cultures.
Lei Blessing found in the Hawaiin culture.
Language – Wedding ceremonies that include Spanish/English are provided for when requested.
Read our Boda Civil Wedding Ceremony script here.